Soy Meat Hamburger Steak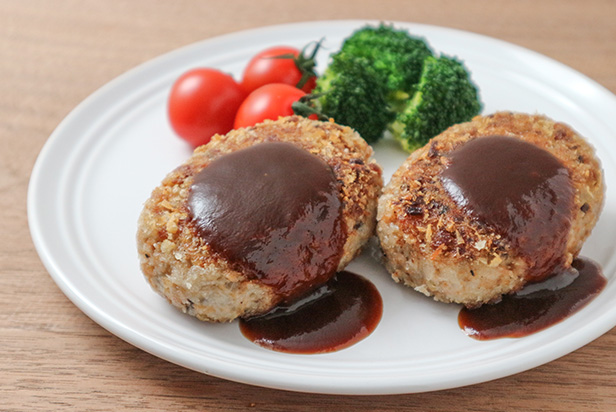 Ingredients (2 Servings)
Daizu Labo Dried Soy Meat Minced

50g

Onion

1/4 pcs

Mushrooms

90g

(a)

Potato Starch

1 tbsp.

Salt

A little

Pepper

A little

Nutmeg

A little

Almond milk (or other vegetable milk)

5 tbsp.

(b)

Ketchup

2 tbsp.

Red Wine (or vegetable stock)

2 tbsp.

Vegetable Oil

Properly
Recipe
[Preparation]
Chop onions and mushrooms.
Boil soy meat and drain water.
Mix ingredients of the sauce (b).
1.

Put soy meat and (a) in a bowl.
2.

Heat oil in a pan and cook onion carefully with low heat.
3.

Put cooked onion into [1] and mix well.
4.

Divide [3] into 4 pieces and make it oval shaped.
5.

Wipe the pan and heat the oil again. Put [4] in the pan.
6.

Put the cover and cook for 5 minutes, then turn it upside down and cook for 5 minutes.
7.

Put [6] aside and heat up the sauce with the same pan.
8.

Serve with the sauce.